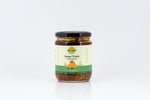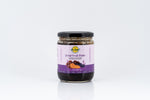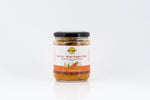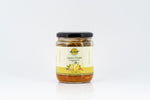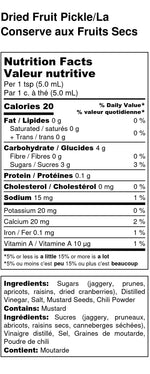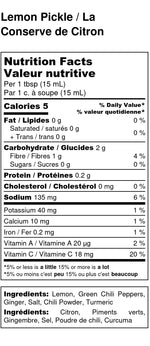 Large Achar Bundle
Regular

$22.00
Sale

$22.00

Regular

$27.00
Unit Price

per
Choose any two 500ml jars of achar! 
Spicy Mango Pickle
Spicy Mango is our most popular traditional achar. It's where unripe mangos meet ginger and garlic, with red chilies.  If you put hot sauce (with a side of dynamite) on everything, this is the achar for you. 

You can pair this achar with rice, naan & curry, cheese and crackers, add it to mayo, or guacamole, eggs, sandwiches, and grilled meats/seafood. 

Ingredients: green mangos, canola oil, vinegar, dried chillies, ginger, fenugreek seeds, red chilli powder, turmeric, mustard seeds, tamarind, salt
Carrots + Mixed Vegetable Pickle
 This is our tangy, slightly sweet and mildly spicy/mustardy achar, full of crunch! It is made with carrots, cabbage, green beans, cauliflower, dried fruits and dates. This unique achar is unlike anything you've ever tried before! Our fans literally eat this straight from the jar!
Traditionally, achars are eaten with rice, bread, curry, lentils and yogurt. However, our Carrot + Mixed Veggies Achar can be topped on almost anything because of its relish like texture and taste.  Try it with eggs, pasta, burgers, hot dogs, tacos, grilled meats, nacho chips, salad dressings, and even soups!
Ingredients: carrots, cabbage, green beans, cauliflower, dates, vinegar, canola oil, plum, apricots, raisins, dates, mustard oil, mustard seeds, salt, red chilli powder turmeric
Lemon Pickle
 Our sour and spicy lemon achar is sure to bring magical flavour notes to any meals! It is made from freshly squeezed lemons with slices of ginger for an added irresistible crunch. 
Nani's lemon pickle recipe is tried and tested for adding a sour touch to compliment any meals and clear your palate!

Ingredients: lemon, lemon juice, turmeric, ginger, red chili powder.  
Dried Fruit Pickle (Murabba)
Made with prunes, apricots, raisins and cranberries -- this pickle is sweet and spicy and sure to be a crowd pleaser! Traditionally this type of pickle is called "Murabba". 
Our Dried Fruit Pickle is very similar to a compote and can be topped on almost anything because of its jam-like taste and texture.  Try it on toast, or as a side with curry, rice, or bread/roti.
Ingredients: apricots, plum, raisins, cranberries, vinegar, jaggery, mustard seeds, salt, red chilli powder