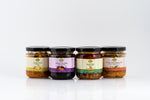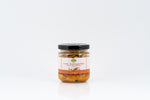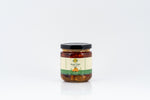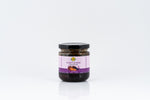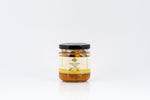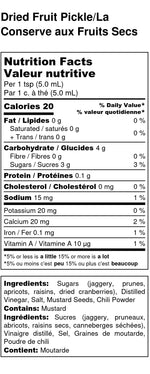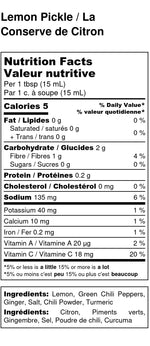 Small Achar Bundle
Regular

$14.00
Sale

$14.00

Regular

$16.00
Unit Price

per
Choose any two 250ml jars of achar! 
Spicy Mango
Spicy Mango is our most popular traditional achar. It's where unripe mangos meet ginger and garlic, with red chilies.  If you put hot sauce (with a side of dynamite) on everything, this is the achar for you. 

You can pair this achar with rice, naan & curry, cheese and crackers, add it to mayo, or guacamole, eggs, sandwiches, and grilled meats/seafood. 

Ingredients: green mangos, canola oil, vinegar, dried chillies, ginger, fenugreek seeds, red chilli powder, turmeric, mustard seeds, tamarind, salt
Carrots + Mixed Vegetable
 This is our tangy, slightly sweet and mildly spicy/mustardy achar, full of crunch! It is made with carrots, cabbage, green beans, cauliflower, dried fruits and dates. This unique achar is unlike anything you've ever tried before! Our fans literally eat this straight from the jar!
Traditionally, achars are eaten with rice, bread, curry, lentils and yogurt. However, our Carrot + Mixed Veggies Achar can be topped on almost anything because of its relish like texture and taste.  Try it with eggs, pasta, burgers, hot dogs, tacos, grilled meats, nacho chips, salad dressings, and even soups!
Ingredients: carrots, cabbage, green beans, cauliflower, dates, vinegar, canola oil, plum, apricots, raisins, dates, mustard oil, mustard seeds, salt, red chilli powder turmeric
Lemon
 Our sour and spicy lemon achar is sure to bring magical flavour notes to any meals! It is made from freshly squeezed lemons with slices of ginger for an added irresistible crunch. 
Nani's lemon pickle recipe is tried and tested for adding a sour touch to compliment any meals and clear your palate!

Ingredients: lemon, lemon juice, turmeric, ginger, red chili powder.  
Dried Fruit Pickle (Murabba)
Made with prunes, apricots, raisins and cranberries -- this pickle is sweet and spicy and sure to be a crowd pleaser! Traditionally this type of pickle is called "Murabba". 
Our Dried Fruit Pickle is very similar to a compote and can be topped on almost anything because of its jam-like taste and texture.  Try it on toast, or as a side with curry, rice, or bread/roti.
Ingredients: apricots, plum, raisins, cranberries, vinegar, jaggery, mustard seeds, salt, red chilli powder
Amazing Achar !
One of the best Achars I have had in my life. Especially the mango flavour is my favorite- You wont go wrong in buying this stuff
We are delighted to hear that you consider our achars one of the best you have ever had! The mango flavour is indeed a popular choice among our customers, and we are thrilled that it is your favourite too.
We take pride in crafting our achars with utmost care and attention to detail, ensuring that each jar is filled with authentic flavour and high-quality ingredients. It's wonderful to know that our efforts have resonated with you and exceeded your expectations!
Delicious
I purchased from Nani's at the Leslieville Flea Market at Ashbridge's Bay Estate recently. The sauces are so delicious I could eat them all by themselves!!! Obviously, there is a tremendous amount of pride and skill in each jar of these yummy sauces, and everyone should try them!!! Will definitely buy from over and over again!
Thank you so much for the wonderful review! :) We're so glad to hear you enjoyed the achars!
Very yummy. Goes well with everything. My husband is not very fond of achaar in general, but he enjoys it too. So it definitely is something delicious. Highly recommend it.
Yum
Enjoying the achaars, mango pickle & fry fruit with my meals. Very tasty & flavoured & spiced. Highly recommended to try it too. I've tried the mix veggie at a bazaar it was also good.
Came highly recommended
Casual conversation and Nani's achar came up as the go to place for fresh achar. I came home and ordered. The delivery was quick, bottles well wrapped. I ordered all the different kinds, I have only opened the Mango achar. It is so delicious and truly tastes home made. Fresh ingredients through and through.