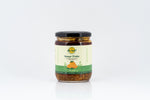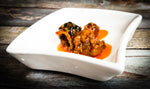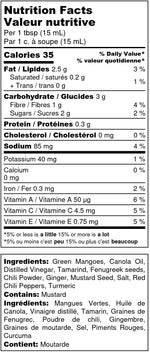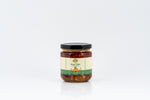 Spicy Mango Achar
Regular

$8.00
Sale

$8.00

Regular

$10.00
Unit Price

per
Experience the mouthwatering flavours of Nani's Achar Mango Pickle, a true delight for your taste buds. This traditional achar recipe brings together the perfect balance of unripe mangoes, ginger, and red chilies, resulting in a harmonious fusion of spicy and tangy sensations. Through a natural fermentation process, this pickle evolves into a symphony of flavours that enrich every bite.

Start your day with a tantalizing twist by adding a spoonful of our Spicy Mango Pickle to your eggs, or take your sandwiches, burgers, and dips to the next level by spreading this exquisite pickle on your favourite bread. Indulge in the delightful combination of cheese and crackers, or pair it with grilled meats or seafood for a mouthwatering experience that will ignite your taste buds with its irresistible taste!
Whether you're seeking a condiment to accompany your favourite dishes or looking to explore new flavour combinations, our Spicy Mango Pickle is the perfect choice. Add a jar to your pantry today and elevate your meals to new heights of deliciousness!
Amazing yummy taste of home!
Achaar is yummy and such natural, familiar taste. Amazing quality, great to have found it.
Realtor
Delicious! Very Yummy Mango Achar!
Worth trying.
What a yummy achar! I love that there are no preservatives added and it really is a delicious addition to any meal- especially rice dishes! Love! 5 stars for sure!
Delicious with tourtiere
Hi
Tonight I enjoyed the Mango with a slice of beef pie, tourtiere style. Brought so much love to the dish.
Mouth watering goodness!!
I love this achar! It literally melts in my mouth! Perfect amount of crunch with the mango pieces for the perfect tangy taste and smooth texture for spicy flavour! Great job! Love the packaging as well :)